Two Months Later: Andrew Neethling's Pace Predictions Ahead of the Fort William DH World Cup
The Fort William course is looking as brutal as ever - Andrew Neethling gazes into his crystal ball to pick his favorites for the win.
Heading out the door? Read this article on the new Outside+ app available now on iOS devices for members! Download the app.
Fort William has become an iconic round of the UCI Downhill World Cup circuit since its debut in 2002. The venue boasts some of the biggest crowds and the most passionate fans of any venue that the downhill circuit visits.
The track is one of the longest in length that the riders have to face.  This means fitness plays a big factor in whether or not a rider succeeds here.  The track is brutal on bike and body and the weather is often atrocious, with high winds and rain being the norm. It is very unique in the fact that the top half and some of the bottom are man-made and the organizers have brought in gravel to help withstand the elements and the "bog" of a ground surface that lies beneath the track.
We all know that weather can wreak havoc on a downhill race, however Fort William is the exception to this rule.  The rain often helps with traction on the loose gravel surface and for this reason, I don't factor the weather into the results as much as usual. Don't get me wrong, you have to be tough to make it through a week of practice, but as far as riders that are wet-weather specialists having an advantage due to rain, this is not the case at Fort William.
Yet you have to be tough both mentally and physically to make it to race day ready to perform.  Temperatures can drop to the point that you can't feel your fingers and, let me tell you, that is not fun when trying to have brake control in practice. You are constantly wet and cold and this drains you throughout the week. If you let this get to you mentally, you may as well kiss a good result goodbye.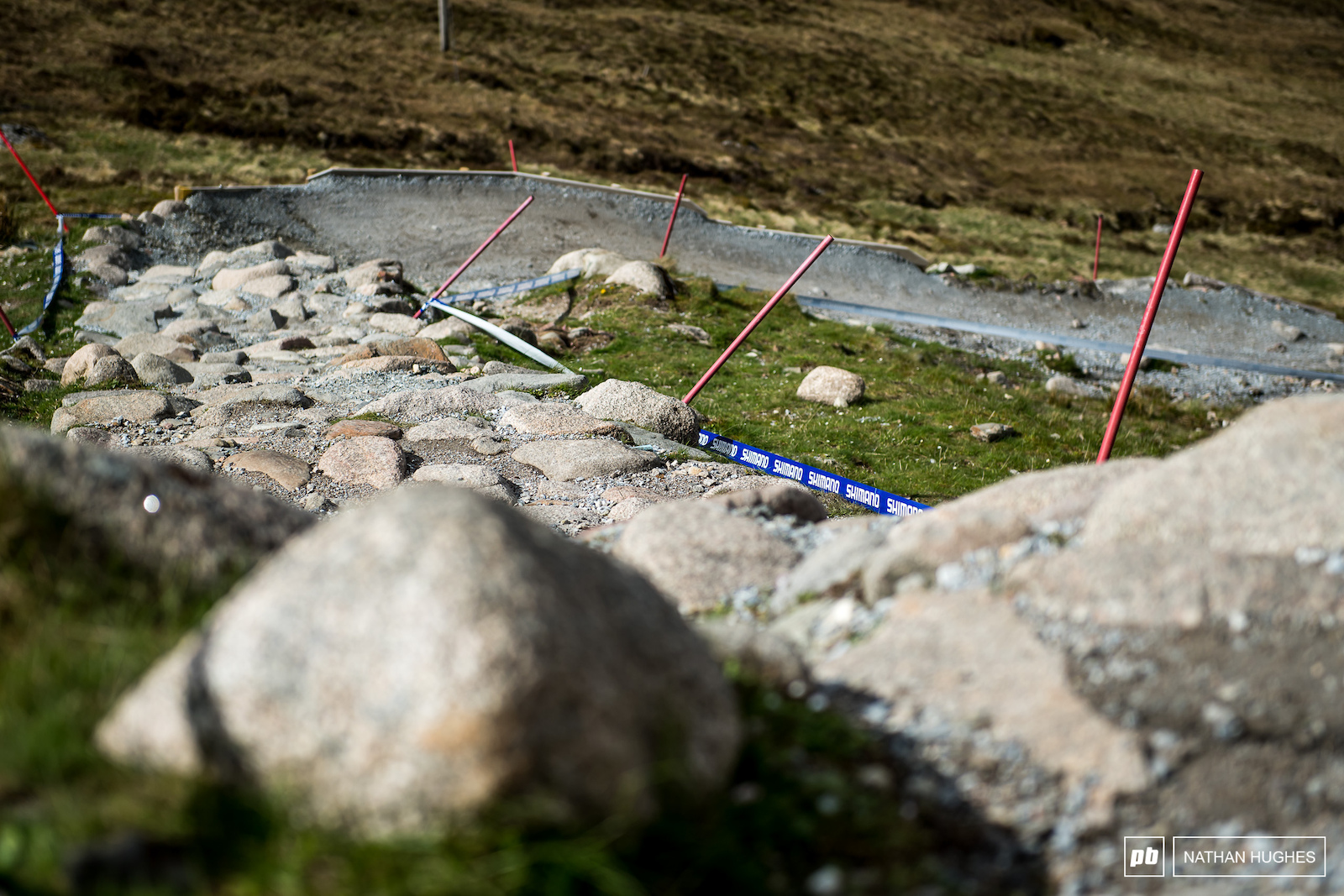 Just Because It's Familiar Doesn't Mean It's Any Easier
For the most part, the track followed the same layout for many years. Each year, there are some minor changes and every few years, even major changes. The nature of the terrain and artificial gravel that is added does not change how the riders attack the track or what riders it suits.
One name that comes to mind when I think of Fort William will be no surprise, it's the GOAT – Greg Minnaar. Minnaar raced the very first edition of the Fort William World Cup in 2002 and, if my memory serves me correctly, crashed out heavily within sight of the finish and ended in 22nd spot.  Since then though, he has won the event 7 times, grabbed 11 podiums, and managed 16 top 10s in a total of 17 World Cups and World Championships. Please read that all again!  There are sometimes horses for courses and Minnaar is the horse for Fort William.  Fort William demands it all, fitness, great bike setup, mental strength to get through a tough week, bike handling skills, and clinical execution as there are minimal line choices out there. As we know, Minnaar is the full package.
Let us break this down a bit more. Often a rider will arrive at a track and just feel great about it right way. Others may have to get a result there to build confidence.  Imagine going back to a venue you have done well at in the past?  You would be excited and well confident!  When you have a tough day of practice, you can tell yourself that you have done well here in the past and it will likely help calm your nerves.  It is like a snowball effect and for Minnaar, that snowball has gotten pretty big.
Has his reign here come to an end with his last win coming in 2017?  We can't tell as Fort William was not on the calendar in 2020 or 2021. Minnaar has used Fort William to kickstart an often slow start to the season in the past and so I say riders beware of the GOAT no matter what pace he has shown coming into the venue.
The track is deceptively fast and often intimidating. It takes some riders a couple of years to get to grips with the feel of it. The top half has no trees or shelter from the elements. On the camera, it does not look too challenging, but it's a very narrow track for how fast you going. There is not a lot of room for error at all and one small mistake often leads to big crashes with rocks and obstacles coming at you quickly, as well as zero runoff on the sides of the track. We have seen some famously big get-offs in years past, namely Aaron Gwin being catapulted off the track into the grassy bog on the side.
Attacking this track at 100% from the top can often lead to fading energy at the bottom.  We have seen Minnaar win this race in the last 40 sec of the motorway with his fitness and power.
Amaury Pierron will be hungry for a win at Fort William.
Don't Count Out the GOAT… But Pierron is the Favorite
A man that is never worried about attacking is Amaury Pierron.  Remember when we looked at predicting Lourdes, we used a few stock market methods. Pierron ticks more than a few of these boxes! He's the winner of Round 1 in Lourdes and he also won Fort William the last time around in 2019.  That surely is where your safe money should be placed.
Loris Vergier, Loic Bruni, and Finn Iles all have good track records here and showed incredible pace at the opening round, although Finn Iles has now announced he's struggling with concussion symptoms and will unfortunately have to miss this round. We said that Round 2 will be a better reflection of the rider's pace for the season due to the early nature of Lourdes and that is why Fort William is a little trickier to predict than years past.  Danny Hart has been looking for a win here for more years than I can remember. He is so committed to this venue that he is not afraid to spend weeks in a cold and lonely parking lot getting to grips with the track. It paid off at the British BDS round a few weeks ago where he took the win.  Thibaut Daprela has not raced Fort William as an elite rider, but did win it as a Junior.  Daprela came to the British BDS to get some race prep which I think will help his cause. I am not sure his riding style suits the track as much as the riders I have mentioned above though.
It's a home race for the British so the likes of Laurie Greenland, Matt Walker and Reece Wilson will be extra motivated to deliver. That home crowd will sure help the tired bodies on the the motorway coming into the finish.
Benoit Coulanges is quite the wild card as he does not have a track record at Fort William.
In the women's field, Myriam Nicole may have been the favorite coming into Fort William until she announced she has been suffering from concussion symptoms for the past several weeks after her crash in Lourdes.  While she said she is recovered and will be taking to the start gate, this will undoubtedly play on her mind,  pun intended. I have been vocal about this side of the sport and it can't carry on like this.  We need someone to step up to formalize a concussion protocol. There is no easy way to manage this, but it seems we are not even trying. I would hope the organizers and governing bodies can get something in place quickly!  We need a third party that helps make this decision for the riders. Tahnee Seagrave will b sitting out of Fort William due to a concussion she had a few weeks ago. Smart move I say and wish her a full and speedy recovery.
Camille Balanche's calm, calculated style could work well on the unrelenting track.
Camille's Consistency Could be the Key to Success
Camille Balanche has been going from strength to strength and with her win at Lourdes, plus her smart race head, can she master Fort William?  With the Myriam Nicole announcement, I think she is the favorite.
The likes of Marine Cabirou, Vali Höll, and Nina Hoffman also have a legit chance at the win. Cabirou has now had time to heal up after breaking her back in December and while she played it safe in Lourdes, this is where she will want to get back to her old self.
Höll has had time to adjust to the pressures of elite racing, but Fort William is a big test for her with the style of track it is.
Hoffman seems healthy again and is a strong overall rider. She also managed a win ahead of Höll at the British Downhill Series which will give her a ton of confidence coming into the World Cup.
Fort William always provides tight racing and an electrifying finish with riders dropping into the finish area surrounded by thousands and thousands of fans. I am confident the weather may be atrocious, but should not influence the results.